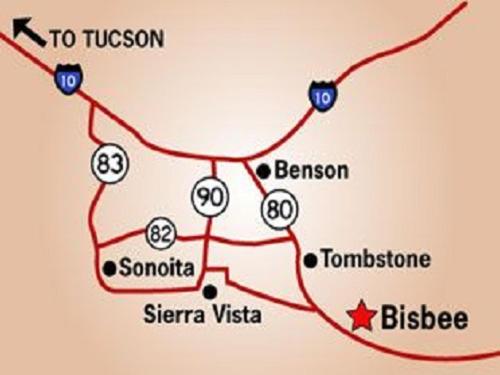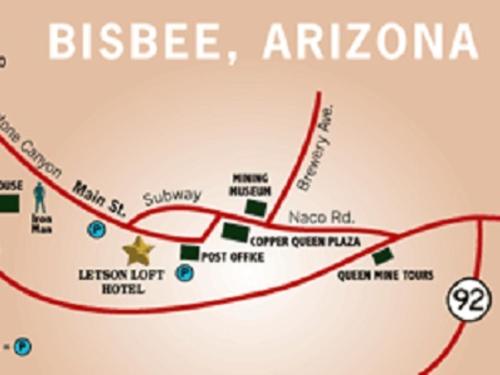 BISBEE is 90 miles SOUTHEAST of TUCSON, and just over 200 miles from PHOENIX.

The most SCENIC approach is to exit EASTBOUND I-10 on HIGHWAY 83 traveling SOUTH to SONOITA. From Sonoita travel EAST on HIGHWAY 82 to HIGHWAY 80 where you will continue EAST through TOMBSTONE and on into BISBEE.
From HIGHWAY 80 take the TOMBSTONE CANYON exit, which becomes MAIN STREET. The LETSON LOFT HOTEL will be on your RIGHT. Or continue on the Highway and take the next exit to OLD BISBEE, approaching MAIN STREET from the other direction. The HOTEL will be on your LEFT just past the POST OFFICE.
FREE PUBLIC PARKING is available directly WEST and EAST of the hotel, as well as along COMMERCE STREET on the back side of the building.
ENTER either from the Main Street front door, or Commerce Street back door - up the back stairs and to the second floor. Just ring the doorbell!
CHECK-IN is 3:00 - 6:00pm unless special arrangements have been made in advance.
Calendar of EVENTS courtesy of The Bisbee Enclave