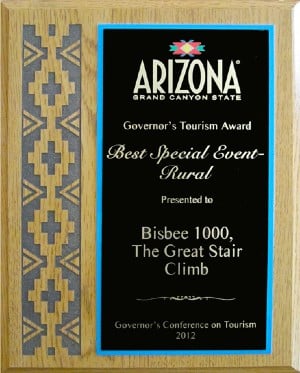 Wow!
Times sure are strange right now to say the least. This year, organizers of our famous Bisbee 1000 Stair Climb Event were looking forward to holding its' 30th Annual event. But like all events during this Covid real life drama we're all living, the Bisbee 1000 has been postponed and possibly will be cancelled.
But not to worry!
If there is any silver lining to this news it's that you can still do the climb by yourself or with a friend and get one of THE BEST workouts ever and it's an incredible social distancing workout! All in the surrounds of the most beautiful hills, stairways, gardens and art found anywhere in the Southwest! I've done the Bisbee 100 myself many times and can say it's one of the most peaceful, delightful experiences that Bisbee has to offer. In fact, I've never actually participated in the annual event, but prefer to do it with a small group of friends when I'm in town. And even better, there's nothing like getting an early start when the town is still sleeping and the air is cool (yes cool, even in the summer months if you get up early enough!) and taking in spectacular city views along the way. Without the large crowds, I can stop to take some great photos, do some birdwatching between climbs and move at my own pace without being chased by someone.
With our Bisbee, Arizona temperatures 10-15 degrees cooler than Phoenix and Tucson, it's the perfect time to get away to discover Bisbee and experience a stay at the Letson Loft Hotel, dead smack in the middle of stair climb territory. For additional information about our friendly city, visit the Discover Bisbee website with a variety of Bisbee offerings and good stuff about what to do while visiting.
We are offering some attractive rates and if you call or book direct, you'll save even more!